Kafka The Comic Genius Makes Top Ten List
Kafka would often have his public readings interrupted by roiling laughter coming from his audience. He would stop and, in spite of himself, grin and even chuckle along with his hooting followers. I imagine his was a deft presentation, yet rather more sly than dry.
* * * * * * * * * * * * * * *
Shalom Auslander's top 10 comic tragedies
From Catch-22 to the Book of Job, the author of Hope: A Tragedy picks his favourite books that 'look into the abyss, smile, and give the abyss the finger'
by Shalom Auslander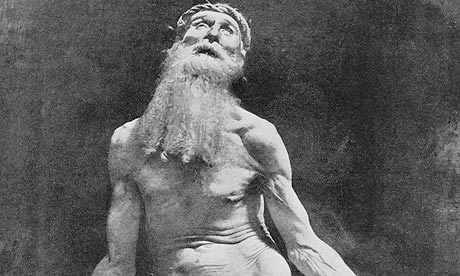 Hilarious stuff … Job, as depicted by French painter Leon Bonnat in 1900. Illustration: Hulton Archive/Getty Images
Shalom Auslander is the author of a story collection, Beware of God, and the memoir Foreskin's Lament. His first novel, Hope: A Tragedy, follows the travails of a man who discovers Anne Frank, still alive in the 21st century and working on the follow-up to her bestseller, living in his attic.
"There is a clothing brand in the United States named 'Life Is Good', a monstrous lie which is emblazoned on all their products. It is an enormously successful brand, and I'll tell you why: because life isn't good. 'They give birth astride of a grave,' wrote Samuel Beckett, 'the light gleams an instant, then it's night once more.' He was only half-right; he left out the part about there being banana peels on the ground beside the grave, so that from the moment we are born, we slip, and drop our coffee, and everyone points at us and laughs, and then there's a Holocaust, and then, and only then, is it dark once more. Books that cry at the tragedy are easy and, in my view, lazy; these books look into the abyss, smile, and give the abyss the finger. That's much more difficult."
1. The Five Books of Moses
Funniest book ever. We open on a man being told that his future is going to be awesome, if he'll just travel to Egypt. So he goes to Egypt, where his children are enslaved and put to hard labour. For 400 years. The family at last escapes, enters a forbidding desert and gets lost. For 40 years. Finally, five volumes later, they reach the promised home, only to be relentlessly attacked, invaded and chased away. The End. Hilarious. If this really is the writing of God, He and I are going to par-tee.
2. Candide by Voltaire
A young couple dreaming of an idyllic future get chased from their home into a dark, forbidding, well, planet: everything sucks, everywhere. They are separated from each other, beaten, robbed, raped. There are wars, conflicts, disasters of every kind, and by the time the once-happy couple reunites at the end, his naive optimism is all but gone, and she is but a haggard, broken shadow of her former self. The End. Hilarious.
3. A Handful of Dust by Evelyn Waugh
Waugh is a dark writer, God bless him, and this might be his darkest. Suffice it to say that if I tell you "The kid dies," it doesn't begin to ruin it. In a crumbling old Victorian home, a family crumbles while doing their best to maintain appearances and lie to themselves. There are affairs, shams, deceptions, death, and a version of Hell that involves being forced to read Charles Dickens for eternity. It doesn't get much worse – thus better – than this.
4. The Book of Job
For 90% of this book, it is one of the darkest, funniest cris de coeur ever composed. A dick (God) decides to test a good man (Job), destroying all his property, killing his family and covering him with boils. Job loses it and goes off on a fantastic tirade against God, even as his friends tell him to watch his mouth or else. "Or else what?" Job asks. Then, the best part: God comes down and gives Job an ass-kicking, shouting at Job, declaring Himself so wonderful and amazing and awesome that Job will never know, all the while, in His arrogance, confirming every bad thing Job accused him of. It's awesome. Then they focus-grouped it or something, and tacked on an apology from Job and a bullshit happy ending. Publishers! Tear out the last 10 pages, and it rocks.
(more)
http://www.guardian.co.uk/books/2012/feb/29/shalom-auslander-top-10-comic-tragedies?newsfeed=true