Kafka On Trial In The Atlantic Monthly - The Defence Rests
This article in The Atlantic Monthly is entitled "Is Franz Kafka Overrated?"
The answer is No!
One might as well try to overrate the stars in the sky, but then, I am prejudiced. People seem to keep imposing external strictures on Kafka which have no bearing. He is also weighted with canards that are no truer for their oft repeats.
For example, much is made by the fact that he did not actually give his infamous "Letter To His Father" to his father. His father never read it. However, Kafka did go through the motions of giving it to his father. He handed it to his mother to pass it on. Yes, he knew his mother would never do this, but, he had made an attempt. It was up to the whims of the external universe to do its part. The external universe was a perpetual disappointment.
All this said however, this article by Joseph Epstein is interesting, containing a wealth of information. The comments are also well worth a read. [DE]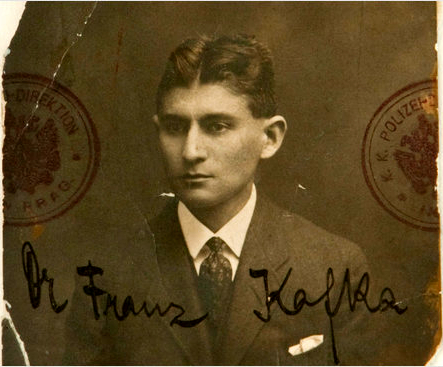 * * * * * * * * * * * * * * *
Is Franz Kafka Overrated?
Critics have long tended to see him as a modernist master on par with Joyce, Proust, and Picasso. Let's reconsider that.
MVM
Edmund Wilson claimed that the only book he could not read while eating his breakfast was by the Marquis de Sade. I, for different reasons, have been having a difficult time reading Franz Kafka with my morning tea and toast. So much torture, description of wounds, disorientation, sadomasochism, unexplained cruelty, appearance of rodents, beetles, vultures, and other grotesque creatures—all set out against a background of utter hopelessness. Distinctly not a jolly way to start the day. Kafka doesn't make for very comforting reading at bedtime, either.
Hypochondriac, insomniac, food faddist, cripplingly indecisive, terrified by life, obsessed with death, Franz Kafka turned, as best he was able, his neuroses into art. As a character in Isaac Bashevis Singer's story "A Friend of Kafka" says, Kafka was "Homo sapiens in his highest degree of self-torture." Still, the consensus remains that Franz Kafka is a modern master—a master, more specifically, in the modernist tradition, housed in the same pantheon as Joyce, Picasso, Stravinsky, Mallarmé, and other artists who have radically altered contemporary understanding of the world.
Kafka created "obscure lucidity," Erich Heller wrote in his book on Kafka. "His is an art more poignantly and disturbingly obscure," he added, "than literature has ever known." One thinks one grasps Kafka's meaning, but does one, really? All seems so clear, yet is it, truly? A famous aphorism of Kafka's reads: "Hiding places there are innumerable, escape is only one, but possibilities of escape, again, are as many as hiding places." Another runs: "A cage went in search of a bird."
(more)
http://www.theatlantic.com/magazine/archive/2013/07/is-franz-kafka-overrated/309373/