Kafka Meets (And, Perhaps, Creates) Guantánamo Bay
 How Guantánamo Bay became Kafkas's trialThe WikiLeaks files story of one detainee, Abdullah Kafkas, reveals the extrajudicial phantasmagoria of Guantánamo Bayby Pratap Chatterjee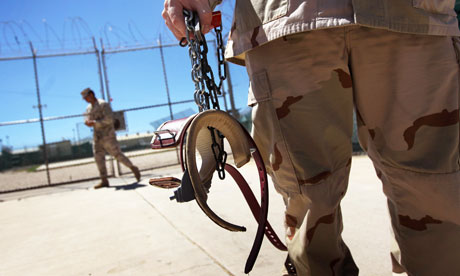 The Guantánamo Bay files spell out the Americans' suspicions about individual detainees' involvement with terrorism, their intelligence value and the threat they are considered to pose if released. Photograph: John Moore/Getty Images
Hundreds of prisoners were captured in Afghanistan and flown to Guantánamo Bay in early 2002, where they spent years in limbo unable to speak for themselves. Their situation can only be described as a surreal equivalent of the famous short story Metamorphosis by Franz Kafka, in which a travelling salesman finds himself transformed into a giant insect, unable to talk and trapped in his bedroom.
Among the 779 men that spent time in Guantánamo was a Russian with the unfortunate pseudonym of Kafkas. Born Rasul Kudayev in the north Caucasus in 1984, he adopted the name of Abdullah Kafkas and travelled to Central Asia to further a career in wrestling.
In November 2001, according to the Guantánamo files released Sunday by WikiLeaks, Kafkas travelled to Kunduz, Afghanistan, where he "worked in an Arab medical clinic for foreign fighters". Kafkas was arrested in Afghanistan and transferred to a prison in the northern city of Mazar-i-Sharif, and then selected for detention in Guantánamo on or about 12 February 2002. Once he arrived in Cuba, however, military interrogators quickly came to the conclusion that Kafkas was "not affiliated with al-Qaida or as being a Taliban leader", and that "the information obtained from and about him (was) not valuable or tactically exploitable".
Indeed, the dossier on Kafkas, which is signed by Geoffrey Miller, the commander of the prison and dated 28 March 2002, states that Joint Task Force Guantánamo had determined that Kafkas "has no further intelligence value to the United States, and will not be seen for further intelligence purposes". Yet it took almost exactly two years for Kafkas to be released to the Russian government, on 27 February 2004. Today, over nine years after Kafkas was arrested and detained, the confirmation that he was an innocent abroad is cold comfort.
The new Guantánamo files from WikiLeaks provide proof that at least 150 people imprisoned in Guantánamo were innocent Afghans or Pakistanis, including farmers, chefs and drivers. Another 380 people were assessed as lower-level foot-soldiers. (Most of these were released in the waning years of the Bush administration.) (more) http://www.guardian.co.uk/commentisfree/cifamerica/2011/apr/25/guantanamo-bay-guantanamo-files