Kafka Letters Go On Auction
Available on Kindle
OK, somebody - give me lots and lots o' $$$$$$$$$$$$$$$$ so I can have a chance at this. Sure, I'll piss off the Czeck government, but Kafka has been doing that to governments for decades.
Kafka cherished his youngest sister (and rightfully so). He shared more with her than with anyone (with the possible exception of Max Brod). She was also his one family ally. It's true his letters to her were neither as impassioned nor in as much detail as to others [I have read all his letters in translation], but then, Ottla was actually in his life most of the time.
I have been fortunate enough to  have seen some letters and post cards written by Kafka. They were but a glass case and many alarms away from my fingers. However, I would like to possess at least one. I'd also like to own the manuscripts which are currently in dispute - but that's another story. Actually, what I would like most is his mug, and the pen he used to keep in it, apparently spirited away by his secretary. There is also reportedly a writing desk. What a great place to keep his letters.
* * * * * * * * * * * * * * *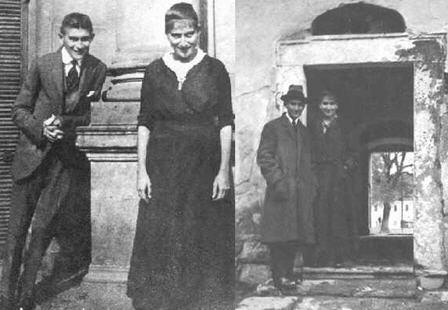 Franz Kafka with his sister Ottla
Call for Czechs to reclaim lost literary heritage by buying Franz Kafka letters
by Chris Johnstone
Preparations are being made to recover what is being dubbed a part of the lost literary heritage of Prague and the Czech Republic. These are some of the many letters written by world renowned author Franz Kafka of which almost no examples are left in his homeland.
Czech-German writer Franz Kafka spent most of his life in Prague and his last years in what was then Czechoslovakia. As well as his three main novels, The Trial, The Castle and The Metamorphosis, he was an inveterate writer of letters to those close to him. Unfortunately hardly anything in his original hand remains in his homeland. That is something the Prague-based Franz Kafka Society is now seeking to remedy.
The opportunity to do so could come up at a sale in a famous Berlin auction house next month. Under the hammer will be around 100 letters and other correspondence between Franz Kafka and his youngest sister, Ottla. The society has made a call on the culture minister, foreign minister and governor of the national bank, amongst others, to secure the letters for the nation.
Franz Kafka with his sister Ottla
Markéta Mališová is director of the society.
"Kafka's deepest feelings were written down. If you want to get a rounded picture of Kafka then you can get it through his letters. They are not just messages but literary compositions and examples of his carefully honed phrases and extraordinary impressions. You can find all that in his letters. I would recommended them; his letters to his friends, Max Brod and sister Ottla. It is an inseparable part of Kafka's work."
These letters are believed to have made their way out of the country, like most of the rest of the author's literary legacy, in the 1960s. As a Jew his works were banned by the Nazis and found little favour amidst the latent anti-Semitism of the Communist regime in the 1950's.
(more)
http://www.radio.cz/en/section/curraffrs/call-for-czechs-to-reclaim-lost-literary-heritage-by-buying-franz-kafka-letters