The Elephant never wrote a letter.
This is an extremely interesting article by John Banville about Kafka and his five year relationship with Felice Bauer. Alas, we do not really hear her side of the story as her correspondence is lost (Kafka did indeed burn things when he wanted).  And Felice was more astute about Kafka than I believe many give her credit. She did partake of the relationship for five years. And she did keep his correspondence which, later in her life, she sold for far less than it was worth.  I quibble with the thought that this relationship had such direct 'cause and effect' on Kafka's writing, but that is open to interpretation.
Franz Kafka's other trial
An allegory of the fallen man's predicament, or an expression of guilt at a tormented love affair? John Banville explores the story behind Kafka's great novel of judgment and retribution
by John Banville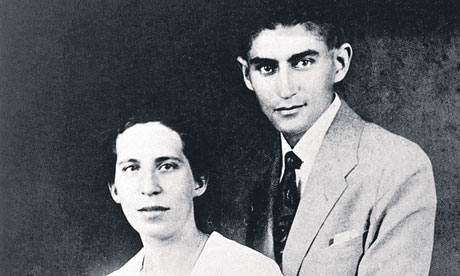 Kafka and Felice Bauer. Photograph: © Bettmann/CORBIS
The artist, says Kafka, is the one who has nothing to say. By which he means that art, true art, carries no message, has no opinion, does not attempt to coerce or persuade, but simply – simply! – bears witness. Ironically, we find this dictum particularly hard to accept in the case of his own work, which comes to us with all the numinous weight and opacity of a secret testament, the codes of which we seem required to decrypt. The Trial, we feel, cannot be merely the simple story of a man, Josef K, who gets caught up in a judicial process – the book's German title is Der Prozeß – that will lead with nightmarish inevitability to his execution. Surely it is at least an allegory of fallen man's predicament, of his state of enduring and irredeemable guilt in a world from which all hope has been expunged. Yet the book has its direct sources in the mundane though extreme circumstances of Kafka's own life, and specifically in what Elias Canetti calls Kafka's "other trial".
It is surprising at first to learn that Flaubert was Kafka's favourite writer, yet Kafka, as a moment's reflection will show, was every bit as strong a realist as the author of Madame Bovary or (the master's work that Kafka most admired) L'Éducation sentimentale. Poor Max Brod, the friend whom Kafka on his deathbed enjoined to burn his unpublished manuscripts, has been scoffed at for his determination to present Kafka as a religious writer, but the misapprehension is understandable. The Trial, The Castle and especially the stories, feel like religious parables – the chapter in The Trial called "In the Cathedral" might be a passage from one of the more obscure books of the Bible, or a gnomic exercise out of the Talmud.
And Brod is not alone in seeing his friend as, in at least some sense, a religious writer. Many later commentators and critics have accepted the religious dimension of these strange and strangely compelling works. Edwin and Willa Muir, Kafka's first English translators, presented him as a kind of tormented saint, and more recently George Steiner has identified The Trial as "an overwhelming feat of metaphysical-religious imagining and inquiry". The great scholar of German literature, Erich Heller, on the other hand, says of The Castle, as he might easily say also of The Trial, that it "is as much a religious allegory as a photographic likeness of the Devil could be said to be an allegory of Evil".
What Heller prizes in these fictions is their specificity, their groundedness in quotidian reality: "While it is in the nature of biblical parables to show meaning through concrete images to those who might be unable to comprehend meaning presented in the abstract, Kafka's parables seem to insinuate meaninglessness through nonetheless irrefutably real and therefore suggestively meaningful configurations." It is this aspect of The Trial that first strikes the reader. Although its atmosphere, at once lackadaisical and deeply sinister, is that of a nightmare, the book has the sheen of a wide-awake, hyper-real and terrifyingly definite experience.
The persuasiveness of Kafka's narratives is almost entirely an effect of his style, which native German-speakers will assure us is well-nigh unique in German literature for its simplicity, control and directness. The polished stuff through which these narratives are conveyed is as resistant and as transparent as glass, and the voice that speaks over it is at once thoroughly jaded and irresistibly compelling. Oneiric though it appears, this is the world not of Kafka's sleeping but of our waking, and the fascinated unease we experience in the face of it springs from the very fact of our recognition of it as impossible and yet wholly real.
Indeed, Kafka's work is a perfect illustration of Freud's conception of the uncanny as the familiar re-presented to us in unfamiliar guise. Strange as it all seems, we know this courtroom, these corridors, these airless overheated spaces; we recognise these people who peer down at us from cramped and crowded balconies, or through the crack of a partly opened door, or who take our hand and lead us with lascivious intent into this dim bedroom where a white blouse hangs on the latch of an open window through which two old people in the next building may be peering with inquisitiveness and a horrible knowing . . .
Kafka himself knew these places and occasions, knew them intimately and with what for him was appalling immediacy. On 13 August 1912, he attended a soirée at the home of Max Brod and his wife. One imagines the pre-war bourgeois scene: the heavy, dark furniture brooding in lamplight, the thickly curtained windows, the indistinct carpet, the doilies and the antimacassars, the head-achey air . . . In a diary entry two days later Kafka writes: "Thought much of – what embarrassment before writing down names – FB." In the context, one treasures the equally laconic note that Brod, the editor of the Diaries, attaches to this sentence: "Two days earlier Kafka had met Miss FB of Berlin, later to be his fiancée." Has a major figure in the life of a major writer ever stepped on to the scene with less seeming consequence?
(more)
http://www.guardian.co.uk/books/2011/jan/15/john-banville-kafka-trial-rereading