Kafka Has A Minor But Choice Role In Play
The only character on stage.
As I have written a novel about Kafka's "lost" diaries, I am interested in this play, The Understudy, which follows the antics of actors preparing to produce a lost and unknown play written by Kafka. Would that there were such a play to be discovered (Kafka did enjoy and often attend the theatre).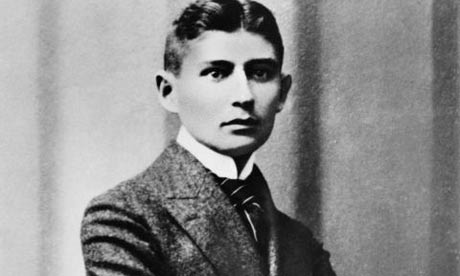 'The Understudy' Merits Top Billing
The Understudy
Written by Theresa Rebeck, Directed by Larry Coen, Scenic Design by Cristina Todesco, Costume Design by Emily Woods Hogue, Lighting Design by Frank Meissner, Jr., Sound Design/Original Music Composed by Arshan Gailus, Choreography by Yo-el Cassell, Production Stage Manager Maureen Lane, Assistant Stage Manager Amanda Ostrow
CAST: Christopher James Webb (Harry), Kelby T. Akin (Jake), Laura Latreille (Roxanne)
Performances through January 29 at The Lyric Stage Company of Boston                            Box Office 617-585-5678 or www.lyricstage.com
I love good writing and enjoy a juicy backstage drama; ergo I had a blast at The Lyric Stage Company's Boston premiere of The Understudy, Theresa Rebeck's play-within-a-play which debuted at the Williamstown Theatre Festival in the summer of 2008. Lovingly directed by Larry Coen, one of the local theatre community's comic masters, The Understudy examines the hot button issue of celebrity casting on Broadway through the lens of an imaginary long-lost Franz Kafka masterpiece and tosses three complex characters in existential crises into the mash-up. The result is a realistic representation of the sturm und drang of the actor's life and a reminder of what they all do for love.
If that sounds woefully heavy and depressing, rest assured that this is a comedy, albeit with characters that face some underlying challenges and disappointments in their search for meaning, just like in real life. Harry (Christopher James Webb) is a trained "working actor" who, in order to earn a paycheck and be involved with an interesting project, has accepted the job as understudy to Jake (Kelby T.Akin), an action movie star hoping to be taken more seriously as an actor by performing in the Kafka play. Harry resents Jake's celebrity and astounding earning power, despite his seeming lack of talent, while the latter aspires to greater achievements and bigger grosses to boost his self-worth.
Working with them at this put-in rehearsal is Roxanne (Laura Latreille), the stage manager who used to be an actress before she decided she needed to make a living. When she discovers that her former fiancé is the understudy, she struggles to keep her own emotions in check, while refereeing the conflicts between Harry and Jake, and trying to coordinate stage directions with Laura, the unseen pothead in the booth at the controls of sets, sound, and lights. Out of exasperation and in order to make it perfectly clear to Harry that he is the low man on the totem pole, Roxanne labels Bruce (the unseen leading man) as Richard III, Jake as Henry V, and Harry as "Spear Carrier number seven." Hoping to avoid tragic consequences, her communications with Laura are a bit more delicate, but equally exasperated.
Harry and Jake balance their seesaw on Roxanne's fulcrum. The two men go back and forth with each other in a struggle to find meaning in the Kafka play and, ultimately, in their own lives. Roxanne has a responsibility to the production, and keeping Jake happy is of paramount importance. At the same time, she needs Harry's cooperation, but their unresolved past interferes with her professionalism. Latreille is masterful following the arc Rebeck draws for Roxanne; from her take charge, take no prisoners demeanor at the top of the rehearsal, through her momentary lapse when she recognizes Harry, to her frustration with the technical glitches, to her flirtatiousness with Jake, the actress takes on the persona of stage manager with incredible realism.
Webb shows great range in his portrayal of the bitter, less than successful understudy whose defense of his resumé betrays his insecurity. Harry knows he's a better actor than Jake, but has to bite his tongue to maintain his job, if not his self-respect, and Webb's expressive face and body language convey his struggle. He is a riot in a scene where Harry is trying to figure out how to find the humor in downing a drink, but he is equally impressive in the dramatic moments that offer insight into Harry's powerlessness and invisibility.
Read more: http://boston.broadwayworld.com/article/The_Understudy_Merits_Top_Billing_20110105#ixzz1AMtWzdxj