John Le Carré Awarded Goethe Medal By Germany
also on Kindle
John Le Carré is one of my most favoured and respected of authors. He melds intrigue into literary fiction with aplomb, creating page-turners where you still want to savour every page. And then there's George Smiley - a perfect character (with a perfect name).  * * * * * * * * * * * * * * *    
Germany honours Le Carré with Goethe MedalSpy novelist receives top award for developing 'coalescence, peace and creativity in Europe'by Alison Flood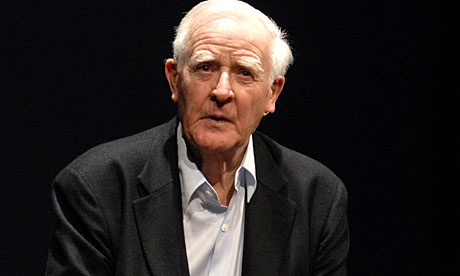 John le Carré: 'Great Britain's most famous German speaker.' Photograph: Action Press / Rex Features  
John le Carré might have withdrawn from the running for the Man Booker International prize because he "doesn't compete for literary awards", but the thriller author has nonetheless accepted a medal honouring him for his contribution to "the development of coalescence, peace and creativity in Europe".
Le Carré has been named as one of this year's recipients of Germany's Goethe Medal, which goes to individuals who "have performed outstanding service for the German language and international cultural dialogue". This "master of the political and psychological crime novel", according to the Goethe Institut, "condensed Germany's difficult role during the era of the cold war" in his books, and "vividly brings to life the global fields of conflict".
An official decoration of the Federal Republic of Germany, first awarded in 1955, the Goethe Medal has been won in the past by Hungarian-Jewish Nobel laureate Imre Kertész, conductor Daniel Barenboim, film director Billy Wilder and publisher Helen Wolff.
"Fifty years after the Berlin Wall was built, 20 years after the end of the Soviet Union and 10 years after the terrorist attacks of 11 September – there could be no better moment than this to pay tribute to this extraordinary achievement of John le Carré with the Goethe Medal," saidthe Goethe Institut. "Viewing language and knowledge of a country as a prerequisite for penetrating world history and understanding ideologies, religions and peoples – these are the aspects that characterise the life's work of John le Carré ... His novels, whose themes revolve around the contrasts between east and west and the cold war, captivate the reader with their painstaking psychological depiction of the characters and their wealth of historical details – Le Carré broke with stereotypical viewpoints and criticised the betrayal of western ideals."
But the author's political involvement goes beyond his writing, the organisation added: "he repeatedly adopts a public and critical stance on the politics of the West, especially the British-American anti-terror coalition in the wake of the attacks of 11 September". (more)   http://www.guardian.co.uk/books/2011/jun/21/john-le-carre-goethe-medal