Is Prize-Winning Success A Dirty Achievement For Books?
"All my novels belong to the one category—intended to be, as it were, serious entertainment." —Anthony Burgess
Yesterday I re-tweeted this quote, and also posted it to Face Book. Today I read that Hilary Mantel might be "middlebrow", apparently for her success in the Kindle age.
Now, I do despair at all the badly-written tripe which washes across the self-publication scene of the internet. Theses efforts are much worse than anything traditional publishers would sanction. But I have never been troubled by a *good read*. One engine of books is their entertainment ability. Shakespeare knew this more than anyone. A work of art has reduced value if people are not exposed to it. [DE]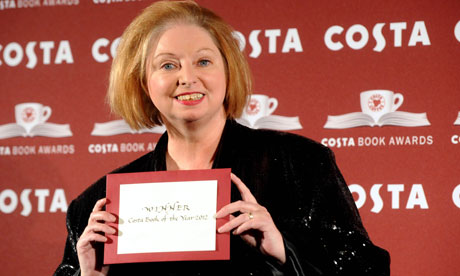 Hilary Mantel's win will give the trade much-needed commercial relief.
Photograph: Stuart Wilson/Getty Images
* * * * * * * * * * * * * * *
Hilary Mantel's Bring Up the Bodies: a middlebrow triumph
Winning the Costa prize says much about our hard times, but more about British literary culture in the age of the Kindle
by Robert McCrum
Hilary Mantel's success with Bring Up the Bodies , the second volume of a projected trilogy devoted to the life and times of Henry VIII's chancellor Thomas Cromwell, marks an unprecedented grand slam: Booker followed by Costa, with the Women's Prize for Fiction beckoning. It's an outcome that says a lot about the Costa prize, even more about the hard times in which Bring Up the Bodies has been published, but perhaps most of all about British literary culture in the age of the Kindle.
A middlebrow triumph in a distinctly odd middlebrow prize by a dedicated writer who has struck a chord with the British reading public in a way that few English novelists have, this will certainly score a footnote in the history of early 21st-century British fiction.
(more)
http://www.guardian.co.uk/books/2013/jan/29/hilary-mantel-middlebrow-tri...