Interview With Václav Havel About His New Movie
On Kindle and would make a great movie
Ready for an Adverse Reactionby Jan Gregor     Václav Havel prepares for the release of Leaving, the 74-year-old former president's debut as film director
Former President Václav Havel has turned his dream of making a movie into reality. At the age of 74, he has filmed an adaptation of his latest play, Odcházení (Leaving), which will premiere on March 24. Here he discusses his motives for undertaking this film-making adventure...
How did you like being a director?
It was an interesting, eye-opening and utterly entertaining adventure. The film is finished, there is only one thing left: I hope people will go to see it, and will like it. I also hope to be confronted by the audience and by film critics. It was worth it but, I must say, I have no intention of doing it again.
When did the idea of turning Leaving into a film first arise?
Shortly after the play was premiered at Divadlo Archa [in Prague], filmmaker Jaroslav Vrabec came up with this idea. I agreed but I hadn't given it proper thought. He took it very seriously, though, so we began to work on a script. Soon I realized his method of writing a script is so different [from mine] and it didn't go with the play very well. So we dropped the idea in a friendly and peaceful way. Later, I talked to another filmmaker -- Jan Němec -- who agreed to do it with me. But we found out that we would've fallen out in a couple of days. So in the end I decided to make my first and last film myself.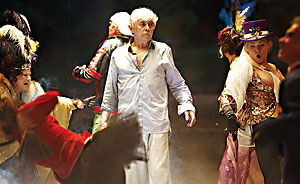 At the Film Critic Awards you joked that you have to please your critics. Do you take their reviews seriously?
No author is happy when his or her work is condemned. My filmmaker friends are telling me not to read reviews, no matter what they're like.
All filmmakers say they don't read reviews but then you hear them quoting them…
I will read them with keen interest.
What would you say to people to encourage them to go see the film?
I hope they won't find it boring. My ambition wasn't to make a film either for exclusively art house-going fans or for so-called common people, for ordinary men and women. I wanted to film something people will think at least a bit about after they leave the cinema, something that will move them. They can just sit, watch the film and pay attention, because the topics are variously piled up, all intertwining and connecting. But I am the last one who should judge it and recommend it to others.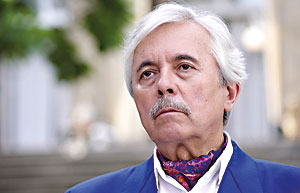 In what way do you think the fact you are a world-renowned celebrity will influence the perception of the film?
I am an odd case. There are probably few people in the world that were the last president of one state, the first president of another and make their debut at 74 years of age. That can cause a stir and attract more attention; it can also cause an adverse reaction. That could all happen and I am ready to face it.
(more)http://respekt.ihned.cz/respekt-in-english/c1-51218290-ready-for-an-adverse-reaction