Innovative Publishers And Authors Try New Formats
It *is* the digital age and writers have to swim in the binary sea. There is a place for both paper and platform, and if an author finds any of these new ideas inviting, go for it, say I. However, I do not think it necessary to trend into shorter writing because of the current reading span of readers. Charles Dickens, about whom we hear so much these days, had a better idea. Serialisation.
* * * * * * * * * * * * * * *
21st-century publishing builds on a healthy radical tradition
Far from killing off the book, the digital age is proving a boon to innovative publishers and authors, many of whom are using new technology to breathe life back into old ideas. Here, we survey four of the most interesting ventures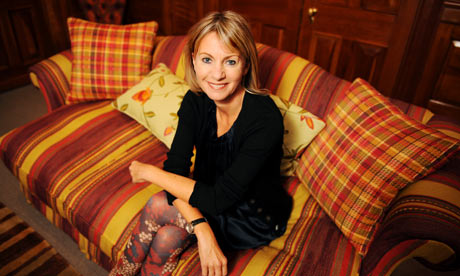 Early adopter: Kate Mosse, one of the first authors to have her work published with Unbound. Photograph: Linda Nylind for the GuardianUnbound: the revival of subscription publishing
Justin Pollard, one of the founders of Unbound, first got the idea for a radical new model for book publishing while sitting in the pub with his friend and fellow author Dan Kieran. "In the way that writers do, we were having a good old moan about publishers and how they don't get any publicity for their books, and how advances are getting ever smaller," he recalls. "I mean, friends of ours, established authors, were getting advances of £4,000. That's a nice amount for a hobby, but not for a proper job."
Yet at the same time, Pollard and Kieran observed that book sales were hardly in freefall. More books were being published than ever. People were still reading. "And so we decided to ask: where is the money going? And what we realised is that the problem isn't to do with middle men taking it all. It's to do with the traditional model of publishing, where you have to pay advances that are non-returnable. Because most books don't earn out their advances, publishers have a huge exposure up front. That's where an awful lot of the money goes."
Pollard and Kieran (by now working with the company's third co-founder, John Mitchinson) decided that there had to be another way of doing things. For inspiration, they looked partly to the music industry, and bands like Marillion who, after they were dropped by their record label, asked their fans directly to put up enough money for a recording session and printing. At the same time, they looked back to a much older model of book publishing. "Subscription publishing is extremely old when it comes to books," Pollard says. "It's how Johnson's dictionary was published, as well as a large number of 18th- and 19th-century novels."
From the yoking together of these two ideas – online pledging in the music business, and old-fashioned subscription publishing – Unbound Books was born. The site, launched last May, acts as a forum for authors to pitch books directly to readers, who, if they like the sound of a project, commit money right away, before the book has even been written. Each book has a target number of pledges it must receive to be viable (generally between 500 and 1,000). When you click on a book on the site, you are shown how many pledges it needs in total, and the percentage it has so far received. You can then pledge your support at a number of levels: from buying the ebook (generally £10), through purchasing the hardback (usually £20) or a signed copy (£50), all the way up to being invited to the launch party (typically £150) or, sometimes, going on an excursion with the author.
(more)
http://www.guardian.co.uk/books/2011/dec/18/book-publishing-digital-radical-pioneers