In Death, Kafka Keeps On Being Alive
Yet another biography of Kafka - this one in three parts. I have read that there are more books written about Kafka than any other author. I'm not going to try to find out, but I am doing my bit.
This is part two of Reiner Stach's biography, entitled The Years of Insight. It covers his life from 1916 to 1924, the year of his death. The last portion he intends to write covers the first years of Kafka's life.
I plan to write another novel about Kafka, covering the last year and a half of his life, particularly his months in Berlin. I will be gleaning this book carefully. [DE]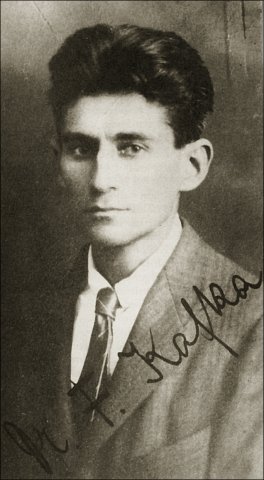 * * * * * * * * * * * * * * *
Kafkaesque'Kafka: The Years of Insight,' by Reiner Stach
by Joy Williams
Kafka. K. The letter is his alone. He liked the word "Zweifellosigkeit," which can be awkwardly translated as "indubitableness." To be true, a work had to be indubitable. He felt his story "The Judgment" to be so. He wrote it in eight hours, almost in ecstasy. "This is the only way to write," he said. He dedicated it to Felice Bauer, a woman he had recently met at his friend Max Brod's house. In his diary he describes her as having an "empty face that wore its emptiness openly." From 1912 to 1917 he wrote hundreds of letters to her. When he stopped corresponding, he dreamed of her as "someone who was dead and could never live again." He burned her letters when their long engagement was finally broken off; she saved his. They are one of the great unnerving monuments of literature.
KAFKA
The Years of Insight
By Reiner Stach
Translated by Shelley Frisch
Illustrated. 682 pp. Princeton University Press. $35.
Enlarge This Image
Kristian Hammerstad
Kafka to his publisher: "The insect itself cannot be depicted. It cannot even be shown from a distance."
Kafka was always burning his stuff, or threatening to, or demanding that others do it for him. He asked at least three women to marry him, but something always came up to thwart the nuptials. (Once it was the beginning of World War I.) One of his obsessions for a time was the sassy Milena Jesenska, who called him Frank. "Frank cannot live," she wrote to Brod. "Frank does not have the capacity for living. . . . He is absolutely incapable of living, just as he is incapable of getting drunk." He was a subject in the playful "Bestiary of Modern Literature," published in 1922, and was described thus: "The Kafka is a very rare magnificent moon-blue mouse that does not eat meat but feeds on herbs. It is a fascinating sight because it has human eyes." The famous and vindictive "Letter to His Father," which was more than 100 pages long, was never sent to his father, Hermann, a purveyor of fancy goods. Kafka gave it to his mother to give to him. She didn't. He lived with his parents well into his 30s, and according to Reiner Stach's biography, "on Sunday mornings he was always overcome by slight nausea" when he saw their rumpled bedsheets "only a few steps from his own bed."
(more)
http://www.nytimes.com/2013/07/07/books/review/kafka-the-years-of-insight-by-reiner-stach.html?pagewanted=all&_r=0