History Of The Typewriter As It Has Disappeared
My first typewriter was (and, indeed, is - as it it easily fifty pounds of indestructible steel) a Remington Rand of heft and might. Blackened ribbons which had to be spooled into place. Keys which gave the fingers a good workout. Cranking in the piece of paper so it would be straight. Letters which had to be periodically cleared of accumulated ink. The little bell which went *ding*. The return lever. The metal front which had to be removed to tend to anything in its murky interior. Drop it on your foot and your foot would break. Drop it on the floor and the floor would crack. And don't get me started on carbon copies...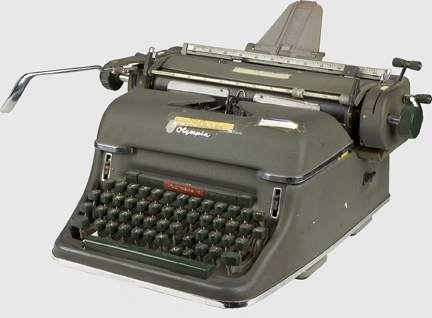 * * * * * * * * * * * * * * *
By Jason Boog
The web video series "A Different LA" launched with a look at the fading art of typewriter repair. Created by Form Follows Function, the video follows the life and work of the late typewriter repairman, Jesse Flores.
We've embedded the video above for your weekend viewing pleasure. What's your fondest memory of a typewriter? Check it out:
(more)
http://www.mediabistro.com/galleycat/the-lost-art-of-typewriter-repair_b58261
(image)
http://www.techdigest.tv/2011/04/reports_of_last.html