Historic Literary Capitol Of Canada - And Home Town For Decades
And not the literary capitol just because I once lived there, but a literary outpost for centuries.
This is a great description of Fredericton, New Brunswick, along with some smashing photos. The current godmother of literature, Nancy Bauer, used to have her writing studio inside the turret in the overview photo. I used to live across the street from the Bliss Carman house. As with many other writers, I attended evenings of drink at Alden Nowlan's home, and have also done so after it was turned into a bar.
The library up the hill, Up The Hill, behind Poet's Corner was not only a workplace of mine, but a research station for my first published novel. I have visited Bliss Carman's grave, though I assume the rumour is true that it holds not his cremated ashes, but cinders gathered from the railway track by his last lover, who wanted his ashes all for herself.
Yes, if graveyards could talk the way of poets. [DE]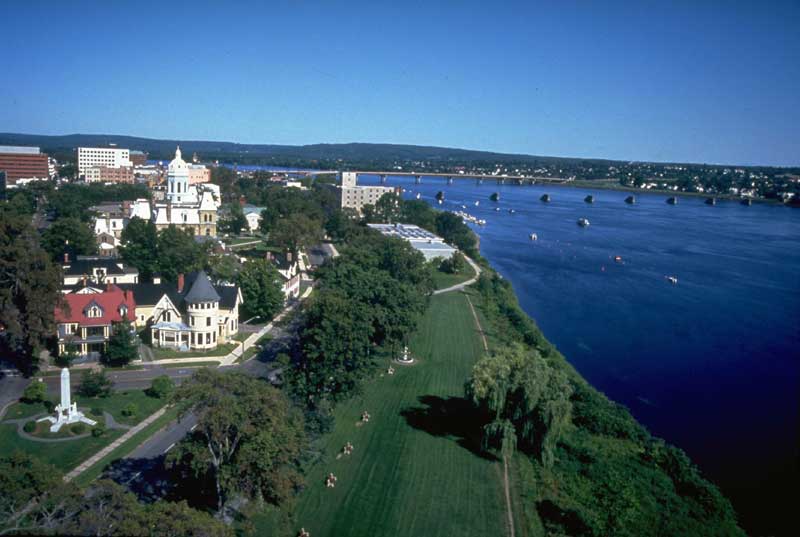 This town's motto is "Fredericopolis, silvae filia nobilis," Latin for "Fredericton, noble daughter of the forest." That's just awesome.
* * * * * * * * * * * * * * *
Literary Tourism: Fredericton, New Brunswick
by Brenna Clarke Gray
If you've never heard of Fredericton, New Brunswick, I'll forgive you. It's the capital of New Brunswick, but you may not have heard of New Brunswick, either, before you started reading this post — unless you live in over the border in Maine — so I'll forgive you that, too. Fredericton is a little city, only 56,000 people or so, tucked in the Saint John River valley. Founded in 1785, it has all the charm and gorgeous stone houses of any old Atlantic town, and it punches way above its weight literature-wise. Fredericton was my home for four year as I worked on my PhD in Canadian Literature, and I can't imagine a better place to be surrounded by books. Literature and storytelling are in Fredericton's DNA.
Frederiction is traditionally known as Poet's Corner of Canada because it is the shared birthplace of three of the Confederation Poets, important because they were writing poetry about being a country around the time (1867ish) Canada was thinking about becoming a country. Bliss Carman, Sir Charles G.D. Roberts, and Francis Joseph Sherman were all born in or around Fredericton and educated at the city's major university, the University of New Brunswick (which, being founded in 1785, is the oldest English-language university in Canada). You can visit a plaque to these three poets on the campus, just outside the library, and Bliss Carman's home is a listed historic site. And at the Forest Hill Cemetery, you can see the graves of these poets, including Carman's, which has been honoured as he once requested:
Let me have a scarlet maple
For the grave-tree at my head,
With the quiet sun behind it,
In the years when I am dead.
(more)
http://bookriot.com/2013/10/27/literary-tourism-fredericton-new-brunswick/?utm_source=feedburner&utm_medium=feed&utm_campaign=Feed%3A+bookriot%2FWlRy+%28BOOK+RIOT%29