HEALTH FOOD FESTIVAL IN PRAGUE
The Elephant eats *only* natural foods.
And you can be sure that Kafka would be front and centre at all the events. He'd be chowing down on the health food and going to the healthy restaurants. Kafka was a naturalist and believed in eating food from the farm. He helped tend public gardens and lived with his sister for a few months in a farm community. Alas, Kafka's belief in 'natural' foods may have killed him. It is believed he contracted the tuberculosis which ended his life from his habit of drinking unpasteurized milk.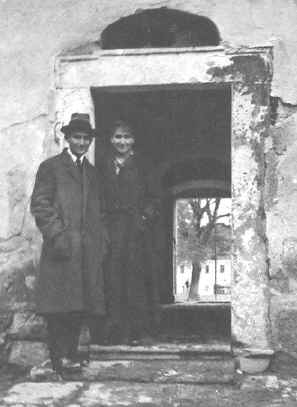 Kafka and his sister Ottla in the rural community of Zürau.
Health Food Festival
The Health Food Festival returns to Prague, 6 May through 30 June, highlighting restaurants and organic food stores across the city at which healthy fare is sold.
Health, Taste, Performance, HappinessDiscover where all of this comes together:
the Health Food Festival 2010, 3rd edition.
Living healthy is more fun than it seems. Health food can be very tasty!
Enjoying healthy food leads to a healthier life-style.
When you live healthy you can perform better in sports and also in daily life!
Try, Experience, Enjoy!
For everybody to get more inspiration we have asked participating restaurants
to highlight or create healthy dishes in their menu.
What are healthy dishes? The origin of the food, the ingredients, the combination
of these ingredients and the preparation are the key to healthy food.
In accordance with the set guidelines of the Festival, the chefs of the restaurants
will let you experience delicious healthy food and help you realize how positively
it can affect your life!
Bio shops and other participating parties can be found on this site so you can help
yourself in bringing alive your fresh new experiences.