He Who Steals My Book ... Thief Takes 1400 Rare Books From Lambeth Palace
Well, there's a great book in here somewhere - to be written, I mean. Instead of a stash of diamonds or dire computer formulae, just have the McGuffin be a book. Or hundreds of books. But what is (to me) more intriguing is a) why stash them in your attic for decades and b) how did so many go missing without them being noticed? [DE]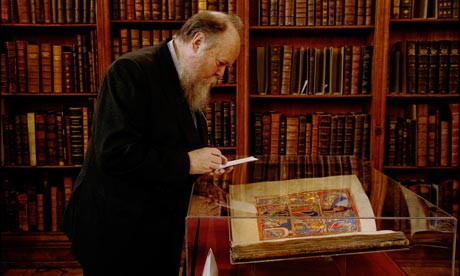 The thief removed around 1,400 books from Lambeth Palace library in the early 1970s. Photograph: Sarah Lee for the Guardian
* * * * * * * * * * * * * * *
Lambeth Palace retrieves stolen collection of extraordinary rare books
Early edition of Shakespeare and historic accounts of expeditions among 1,400 'priceless' books discovered in attic
by Alison Flood
From an early edition of Shakespeare's Henry IV Part 2 to illustrated accounts of the first expeditions to America, an extraordinary collection of rare books dating back to the early 17th century has been returned to Lambeth Palace almost 40 years after it was stolen.
The palace's librarian realised as long ago as 1975 that there were gaps on the library's shelves, putting the number at around 60 missing volumes; it was difficult to ascertain the exact figure, as the catalogue cards had been removed and the collection was still in a certain amount of disarray following a direct bomb hit during the second world war.
"It's nearly 40 years since it happened and we'd long ago given up hope that we would get them back," said Declan Kelly, director of libraries for the Church of England. "The theft was discovered in the early 1970s and the police were informed, the book trade were informed, but the police didn't catch the thief and the trail ran cold."
In February 2011, the palace's newly appointed librarian was stunned to hear from a solicitor dealing with the estate of the recently deceased thief, in which the culprit – who had "been associated with the library", said Kelly – made a full confession, and revealed the location of the books in a London attic. "I had a list of 60-90 books we definitely knew were gone," said Kelly. "But it gradually became clear that the loft was just completely full of books."
(more)
http://www.guardian.co.uk/books/2013/apr/29/lambeth-palace-stolen-books-retrieved