Girl With Dragon Tattoo Inspires Fashion Line
Of course, you all wonder - of course you do for I know I do - what would a Kafka fashion line be like. Quite dapper, I am sure.
* * * * * * * * * * * * * * *
H&M launch The Girl with the Dragon Tattoo clothing range
The Swedish high street store will launch designs by Trish Summerville, costume designer on David Fincher's version of The Girl With The Dragon Tattoo. But what would Lisbeth Salander say?
by Rosie Swash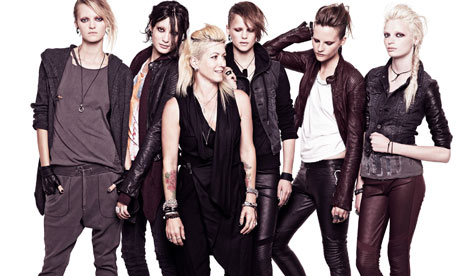 What would Lisbeth say? H&M designs inspired by The Girl With a Dragon Tattoo (click to see larger image) Photograph: H&M
Lisbeth Salander is many things. A heroine, a techno-whizz, a hard nut with a soft centre, and, yes, the fictional character at the centre of Stieg Larsson's hugely successful Millennium Trilogy. But fashionista? Considering Larsson went out of his way to portray Salander as a goth-punk styled sartorial rebel, we're surprised to see H&M have produced an entire clothing line in her honour.
(more)
http://www.guardian.co.uk/fashion/fashion-blog/2011/oct/26/h-and-m-launch-the-girl-with-the-dragon-tattoo-clothing-range