Gaddafi Frozen Out Of Penguin Publishers
On Kindle
Pearson freezes stake held by Libyan Investment Authority
Financial Times owner's move comes after UK government order to block assets of Muammar Gaddafi and his family
by Mark Sweney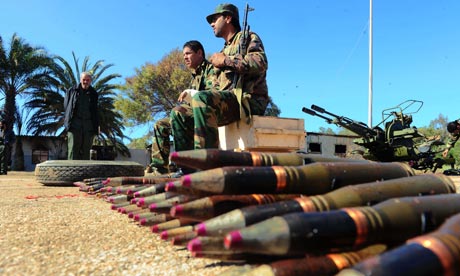 Libyan soldiers who have defected against Moammar Gaddafi guard anti-aircraft guns. Pearson chief executive Majorie Scardino said the situation in Libya was 'abhorrent'. Photograph: Sipa Press/Rex Features
Pearson has frozen the stake held by the Libyan Investment Authority, one of the five biggest shareholders in the Financial Times owner, after taking legal advice that it is subject to a government order.
On Monday Pearson began a legal investigation to determine who the beneficial owner of the stake is in order to ascertain if the investment needed to be frozen in line with a UK government order to block the assets of Muammar Gaddafi and five members of his family.
"Having taken legal advice regarding its obligations under the order, Pearson considers that the ordinary shares in the company which are held by or on behalf of the LIA are subject to the order and are therefore effectively frozen," the company said in a statement. "As a result, Pearson has today informed the LIA and its nominees that Pearson will not register any transfer or pay any dividend in respect of the shares until further notice."
(more)http://www.guardian.co.uk/media/2011/mar/01/pearson-libyan-investment-authority-stake