"Diary Of Anne Frank" Called Pornographic and Sexually Explicit
Anne Frank, in a diary entry, describes her sexual region with a degree of clinical detail. An American mother says her teen-age daughter felt "uncomfortable" with such a description. The mother wants the book removed from a school's reading list in Michigan.
The historical aspect of Anne Frank's diary should be enough to allow some 'quirks' in making it available to people who are the same age as Anne. Who better to ask or - more accurately - answer some questions which every teen will have? Done in the most straight-forward and honest of ways. [DE]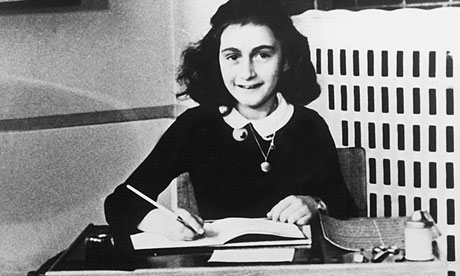 '
Pornographic' writing? … Anne Frank.
Photograph: Everett Collection/Rex Features
* * * * * * * * * * * * * * *
Anne Frank's Diary in US schools censorship battle
Anti-censorship campaigners fight parent in Michigan over allegedly graphic passages in Diary of Young Girl
by Alison Flood
Free speech advocates in America have slammed a call to ban The Diary of a Young Girl by Anne Frank from schools in Michigan because it contains "pornographic" passages.
A mother of a seventh grader in the Northville school district in Michigan said late last month that Frank's depiction of growing up in hiding as a Jewish teenager during the Holocaust, which has sold millions of copies worldwide, contains "inappropriate material". She pointed in particular to a passage from the "definitive" version of Frank's diary – which includes around 30% of extra material left out of the original 1947 edition by Anne's father Otto – in which the young girl discusses her anatomy.
... [C E N S O R E D D E S I G N A T E ]...
The mother told local press that this and other passages had made her daughter "uncomfortable", and that the school should have informed parents about the nature of the material. "It doesn't mean my child is sheltered, it doesn't mean I live in a bubble, and it doesn't mean I'm trying to ban books," she said.
(more)
http://www.guardian.co.uk/books/2013/may/07/anne-frank-diary-us-schools-censorship