Book Blurbs Too Good To Put Down
The Elephant Talks To God is a goddamned good read with enough Kafkaesque undertones to make you lock the doors and cower under the palm tree. I should have known Estey - a genius at everything else - would outdo the Bible. TETTG is the book of the last two Millennia. A thrilling book with enough moxy to fill a jungle, you will not be able to put it down (Eleventh Commandmant). Not since The New Testament has God made such an impact on the world.
* * * * * * * * * * * * * * *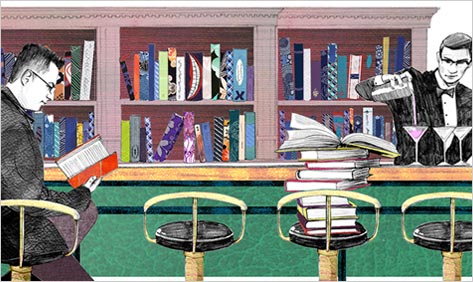 Blurb Rules By Daniel Menaker
A guide to the art and artifice of writing blurbs for books.
1. Use "I should have known" at the start of any quote you decide to give. As in "I should have known Meghan Askew would write the best vampire-leprechaun novel of the decade." Or "I should have known that I should have known that 'Maura's Tears' would sweep me away into a maelstrom of [whatever]."
2. To keep yourself somewhat closer to being honest, use "of the decade" only for books published in years ending in 1. Or 2, at a stretch.
3. Use "thrilling," even if the book is about nucleopeptides that mimic topoisomerase. "Thrillingly" is OK, too.
4. Ditto "prodigious" except for books about child prodigies.
5. Come up with a clever variation of "I couldn't put it down." Some ideas: "I should have known that you wouldn't be able to put it down, and neither would your aunt." "It's so thrilling, you'll be afraid to pick it up. And when you do, you won't be able to put it down." "Go ahead--try it! Go ahead. I dare you. Try to put it down. Oh, you're sure you can? You are? Well, let's see it, then. What's stopping you? Go ahead. There's the table, and there's nothing else on it--plenty of room. No one's looking. You're alone. So go ahead, by all means. See? I thought so!"
(more)
http://bnreview.barnesandnoble.com/t5/Grin-Tonic/Blurb-Rules/ba-p/6843?utm_medium=twitter&utm_source=twitterfeed