Author To Be Honoured With His Own Town
also on Kindle
There is already an Estey's Bridge and an Estey Stream (no, neither named for my humble self) and I am certainly planning on the Estey Mausoleum (when the time comes). But I must admit a far more fitting tribute (in addition to an Estey Tributary) would be Esteyville. Or Esteyburg. Or even Esteytropolis. One might even muse about The Republic of Estey.
 * * * * * * * * * * * * * * *
Bosnian novelist has town built in his honour
Work of Nobel laureate Ivo Andrić to be commemorated with 17,000-square metre 'Andrićgrad' in the Republika Srpska
by Alison Flood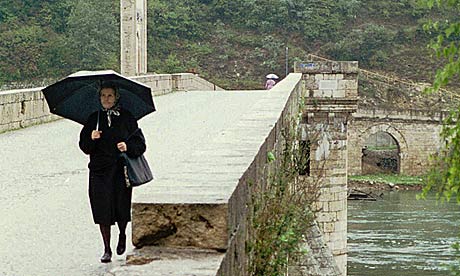 'Where the Drina flows with the full force of its green and foaming waters' ... the fabled 16th century stone bridge over the Drina river in Višegrad. Photograph: Mort Rosenblum/AP
Work is set to begin building a new town inspired by the writing ofYugoslavian Nobel literature laureate Ivo Andrić, following plans by film director Emir Kusturica and the Republika Srpska's government.
Andrić, who won the Nobel in 1961, is best known for his novel The Bridge on the Drina, the inspiration behind the new town of Andrićgrad. Written by the author during the second world war, it tells of the three centuries of conflict the bridge of the novel's title has witnessed, situated as it is in the small Bosnian town of Višegrad.
Work on the town of Andrićgrad, which will be located within Višegrad, is due to start this week and to be completed by 2014, reported Serbian news agency Tanjug. Kusturica, who has won the Cannes Palme d'Or twice, told Balkan Insight that it would be "the biggest, most spectacular project of my life", with stone streets, gates and tower, encompassing a museum, library, theatre and memorial to Andrić . The project to build the 17,000-square metre town will be funded by the film director, and by the government of the Republic of Srpska.
(more) 
http://www.guardian.co.uk/books/2011/jun/28/bosnian-novelist-new-town-ivo-andric