Are We Whistling As We Pass The Bookstore?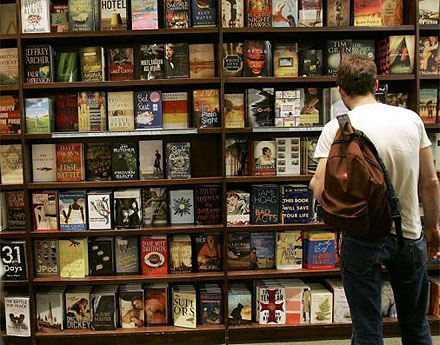 EditorialRead On
News that Borders, the nation's second-largest book chain after Barnes & Noble, is teetering on the brink of a bankruptcy filing has made book publishers even more nervous about their online future.
The recording industry, which preceded books' move online by about a decade, sold $7.7 billion worth of music in 2009, down from $14.3 billion in 2000. Electronic books are much easier to pirate than songs and movies — a fact made clear when Dan Brown's blockbuster "The Lost Symbol" was downloaded illicitly more than 100,000 times within days of hitting stores in 2009.
Despite all that, we are happy to say that it's far too early to kiss book publishing goodbye. E-book sales more than doubled in the first 11 months of last year — to about 8 percent of total sales. E-readers are flying off the shelves, and overall book sales are holding up as the paper-based industry transitions to the digital age, increasing 3.5 percent in the first 11 months of 2010.
The resilience of the book business may be because of demographics. Like jazz, which is less prone to illicit downloads than hip-hop, books cater to older, less Internet-savvy customers. Publishers also avoided the recording industry's mistake of wasting precious time suing customers and have rightly focused on promoting cheap and easy ways for them to download books legally.
(more)http://www.nytimes.com/2011/01/26/opinion/26wed4.html?_r=1&ref=opinion(image)http://www.artsjournal.com/realcleararts/booksSpencerPlattGetty.jpg