A Kiss After Death For Oscar Wilde
It is no secret (well - no secret to the person in question) that I have tasked to a dear and innocent friend the chore of constructing my Mausoleum (for use -you know- after I'm dead). I aim on giving her many a long year to plan and execute this humble request. For the time being I am available for consultation. However, here is a new wrinkle which probably should be considered in the preparations. Admittedly, I never thought of this possibility (though I do request weeping benches beside the reflecting pool). But once presented to my attention, I readily conceive that this will probably happen on my account. [Oh, and please ...please... keep away from my genetalia.]
* * * * * * * * * * * * * * *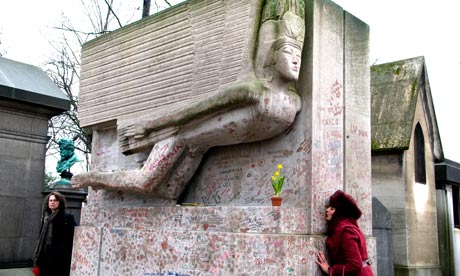 A woman kisses Oscar Wilde's tomb. From now on his fans will find it harder to get so close. Photograph: Peter Horree/Alamy
Oscar Wilde's lipstick-covered Paris tomb to be protected
Wilde's grave in Paris has been restored after decades of unusual lipstick tributes
"A kiss may ruin a human life," Oscar Wilde once wrote. It can also ruin the stonework of a tomb, judging by the extraordinary graffiti – kisses in lipstick left by admirers – that for years have been defacing and even eroding the massive memorial to the Irish dramatist and wit in Paris's Père Lachaise cemetery.
Wilde died in the city in 1900, aged 46. His restored tomb will finally be unveiled this week, newly protected from his devotees.
For years visitors would confine themselves to leaving gently admiringbillets doux dedicated to the creator of The Importance of Being Earnestand Lady Windermere's Fan. All that changed in the late 1990s, when somebody decided to leave a lipstick kiss on the tomb. Since then lipstick kisses and hearts have been joined by a rash of red graffiti containing expressions of love, such as: "Wilde child we remember you", "Keep looking at the stars" and "Real beauty ends where intellect begins". Surprisingly, perhaps, most are written by women.
Merlin Holland, Wilde's grandson, said the lipstick had become a "serious problem" because the grease sinks into the stone. "Every cleaning was causing a bit more stone to wear away," he said.
"The commission, a flying naked angel inspired by the British Museum's Assyrian figures, was finally unveiled in 1914, surviving intact until the early 1960s, when the angel was vandalised, its genitals hacked off and stolen."
(more)
http://www.guardian.co.uk/culture/2011/nov/27/oscar-wilde-grave-paris-cemetery