Summer Sizzle and Sun Shine!
Summer sun, surf, swim, sizzle, and SHINE!
 Express Yourself!™ by Founder, Cynthia Brian
Without a doubt, summer is my favorite season. I love it hot, hot, hot because it means I can swim, swim, swim. Whether the medium is a lake, pond, ocean, or pool, you will find me in the H2O when the weather is over 80 degrees. And when it's colder, I may be in the shower or a hot tub. Why? Because my inspiration arrives to my brain via my body when my senses are surrounded by water.  I write all my books, lectures, columns, and thoughts with water as my background noise.
Where are you the most creative? What kind of environment gets your juices flowing?  Do you know? 
It's time to think about how you like to express your inner ingenuity. 
This past month two of Be the Star You Are!®'s inventive teens, Steven Zhou and Courtney Cheng have been diligently working with me to design, write, and implement the new focused web site explicitly envisioned to be a safe place for young people to voice their opinions and talents. Appropriately named, Express Yourself!™ at http://www.btsya.com, the site has been launched with the sole purpose of publishing the creative works of teens and young adults around the world, connecting all youth in a positive, uplifting, collaborative manner. Writing, book reviews, photos, art, music, and videos are all welcome. Steven and Courtney will be moderating and managing the site and look forward to expanding the resources to include organizations and non profits that serve youth as well as offering a pen pal program whereby young people from different countries and cultures may communicate with one another. A licensing program is in the works.
Express Yourself!™ will showcase a monthly feature of  YA authors and YA celebrities who are making a difference for our planet. We welcome input and look forward to your participation, sponsorship, chat, and suggestions. Currently the teens have launched Operation Disaster Relief to help get books to the students of Joplin, Missouri who were affected by the 2011 tornadoes.  This is a fabulous opportunity for you to donate to an important cause and receive a tax deduction.
We also are seeking publicists, social networkers, and others to work with the Teen Team on the site. Email: btsya.expressyourself@gmail.com
If you are a young person, or you are the parent, teacher, guardian, or friend of any young people, please encourage them to check outhttp://www.btsya.com. Express Yourself!™ is for the kids, teens, and young adults who will one day rule our planet. Let's give them the opportunity to shine now!
Take a dive into your nearest water source and stroke your inner genius. Summer is for fun and exploration. It's time to Express Yourself!™   See you at the edge for some summer sizzle!
Cynthia Brian
Founder/Executive Director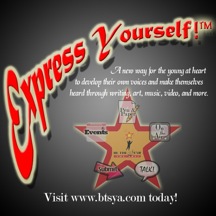 P.S. Steven and Courtney have a few words for you. Keep on reading…
Listen to a radio interview with these STAR teens.
DONATEDONATEStar Teens Express
From Steven Zhou, web master:
As the youth of the 21st Century generation, our education growing up has always been about memorizing and copying the tactics, knowledge, and ideas of historic figures. We have grown up without the chance to be different, to use our creativity rather than our memorization skills to excel. Express Yourself!™ is a medium to show that, as youth, we already have something to contribute to the world. Through the free publicizing of writing, art, music, video, etc, we aim to give a voice to the new generation of youth.
From Courtney Cheng, Writing Coordinator: 
Express Yourself! is an all-age-friendly site that encourages readers to pursue their creative and artistic talents. Contributing to the writing submissions not only provides an audience for your own work, but also allows you to find inspiration in others'. We hope to give our site visitors a place to explore their interests while interacting and connecting with others.  To read the full newsletter, go to http://hosted.verticalresponse.com/672296/b6e65badf0/288055965/615a7c9583/.Sign up to receive the monthly news. 
" Read, lead, succeed and Be the Star You Are!""
About Cynthia
Cynthia Brian, founder of Be the Star You Are!, is the author of "Be the Star You Are! 99 Gifts for Living, Loving, Laughing, and Learning to Make a Difference, published by Ten Speed Press. Dr. Bernie Siegel wrote the foreword. Other books which benefit...
Causes Cynthia Brian Supports
Be the Star You Are! 501 c3 charity empowering women, families, and youth through improved literacy, positive media, and life skills.
...