Ridge's Color Alerts Political...and Liberace was Gay
In a soon-to-be-released book by Tom Ridge, Former Secretary of Homeland Security, "The Test of Our Times: America Under Siege . . . and How We Can Be Safe Again," (written with Larry Bloom and published by Thomas Dunne Books, an imprint of St. Martin's Press), Ridge reveals that on more than one occasion he was pressured to raise the terror alert level by the Bush White House, including former Attorney General, John Ashcroft, and former Secretary of Defense, Donald Rusmsfeld.
The quote that has everyone up in arms, is where Ridge wonders aloud (or in print) "Is this about security or politics?"
The political manipulation was obvious back in 2004, when I wrote the poem to accompany this image. Did we really need Tom Ridge to wonder about it to confirm it?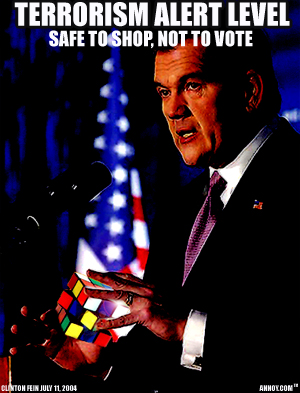 Steal the ballot, rob the vote
Dial up Diebold, rock the boat
Tip the pollsters, trick the fools
Move the goalposts, change the rules
Color code anxiety,
Fire up the fear
Mobilize the sleeper cells
Keep the channels clear
Anything to stop the vote
Can't take the rejection,
The only way to win the day
Just cancel the election.
Martial law and sovereignty
No message could be worse
Freedom and democracy
At high speed in reverse.
About Clinton
In a world of superficial sound bytes dominated by a generation absorbed with the self and the surface of things, Clinton Fein's work dissects the vicissitudes of our body politic, pricking the raw nerves that the increasingly conservative mass media tiptoes...
Causes Clinton Fein Supports
First Amendment Project
The Humane Society of the United States (HSUS).
Visual Aid
Servicemembers Legal Defense Network