Blog Orgy Tour stop #20: Friday Five The 5 Best Things Caleb J Ross Has Read Recently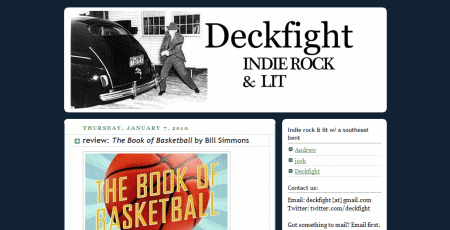 I learned about Deckfight when Josh, the guru over there, approached me about doing one of their "5 Best Things" segments. I'm ashamed that I didn't know of the site before this. I've since perused their archives, and I can honestly say, they do some great things over there. So, after you pretend to care what I think by reading my "5 Best Things" post, be sure to scour the rest of the site.
And don't forget, A FULL WEEK AT THE 3AM BUZZWORDS BLOG all next week. I peed myself just now.
About Caleb
Caleb J Ross has a BA in English Literature and creative writing from Emporia State University. His fiction and nonfiction has appeared widely, both online and in print. He is the author of Charactered Pieces: stories, Stranger Will: a novel, I Didn't Mean to...
Caleb's Favorite Books
The Stranger by Albert Camus, House of Leaves by Mark Z. Danielewski, Invisible Man by Ralph Ellison, Tours of the Black Clock by Steve Erickson, The Wavering...