Blog Orgy Tour stop #12: Ren & Stimpy & Charactered Pieces
Until Jan 16th, all orders of Charactered Pieces get a free back issue of a lit journal. See my site for details.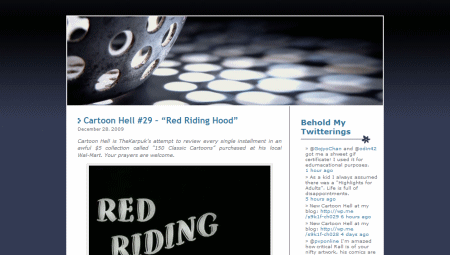 Today, I stop at Nicholas Karpuk's blog, which consists of a series of posts tagged "Cartoon Hell," that comment on a cartoon DVD from a $5 collection called "150 Cartoon Classics." You have no idea how much this idea excited me when I first heard about it. So, to be able to add a bit of cartoon talk to his blog is an honor.
There, I talk about how Ren & Stimpy inspired the cover design for Charactered Pieces.
And just for fun, check out this playlist featuring Tex Avery's most well-known cartoons. As a child, I absorbed Looney Tunes cartoons. Avery's "[Blank] of Tomorrow" newsreel satires were my favorite (as evidenced by an earlier post here).
About Caleb
Caleb J Ross has a BA in English Literature and creative writing from Emporia State University. His fiction and nonfiction has appeared widely, both online and in print. He is the author of Charactered Pieces: stories, Stranger Will: a novel, I Didn't Mean to...
Caleb's Favorite Books
The Stranger by Albert Camus, House of Leaves by Mark Z. Danielewski, Invisible Man by Ralph Ellison, Tours of the Black Clock by Steve Erickson, The Wavering...