Reading from The Dovekeepers
ractical Magic. The Red Garden. The Story Sisters. The Third Angel. Skylight Confessions. The Ice Queen. Blackbird House. The Probably Future. Blue Diary. The River King. Local Girls. Here on Earth. Second Nature. Turtle Moon. Seventh Heaven. At Risk. Illumination Night. Fortune's Daughter. White Horses. Angel Landing. The Drowning Season. Property Of. And now, The Dovekeepers, a story that hasn't been told before, about which Toni Morrison says, "beautiful, harrowing, a major contribution to twenty-first century literature."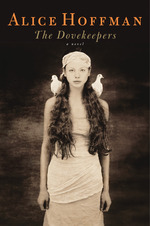 Watch the book trailer here. Join us this Tuesday, October 18 at 7:30 PM to meet Alice Hoffman and talk with her about her research for, and writing of, the story of four women in 70 CE – their lives and passions, as relevant now as in ancient times – before their arrival at Masada, and during their days at Masada – and the final Roman siege in which 900 rebels and their families perished…except for two women and five children. It's Hoffman at her absolute best and not to be missed.

About Alice
Alice Hoffman was born in New York City on March 16, 1952 and grew up on Long Island. After graduating from high school in 1969, she attended Adelphi University, from which she received a BA, and then received a Mirrellees Fellowship to the Stanford...
Causes Alice Hoffman Supports
The Hoffman Breast Center of Mount Auburn Hospital.
The Wellness Community.
Rosie's Place.
The Alice Hoffman Young Writer's Retreat of...