Able Muse BOOK AWARD (poetry manuscript): Less than 1 WEEK to deadline
** Less than ONE WEEK left before entry deadline in BOOK AWARD ***


ABLE MUSE BOOK AWARD (Poetry) - $1000 prize, plus book publication
Judge: Mary Jo Salter
Deadline: March 31, 2012
Read the guidelines and ENTER now!
** NEW FROM ABLE MUSE PRESS***
The Cosmic Purr, the first full-length collection of original poetry from Aaron Poochigian has been released by Able Muse Press and is immediately available worldwide through Amazon and most popular distribution and retail channels here (ISBN 978-0-9878705-2-0). Or, just go to Aaron's website, www.aaronpoochigian.com, or the Able Muse Press website, www.ablemusepress.com.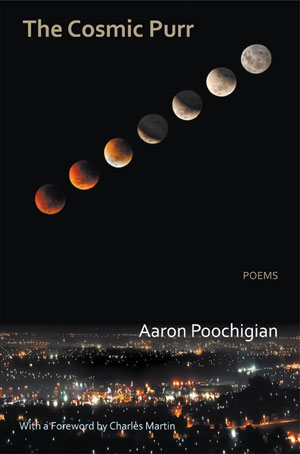 The Cosmic Purr - poems by Aaron Poochigian
(with a Foreword by Charles Martin):
Blurbs from Dick Davis, David Mason and Diana Der-Hovanessian--
The Cosmic Purr is the first collection of original poetry from Aaron Poochigian, well-known for his translations of Sappho, Aeschylus, Aratus and Apollonius of Rhodes. From the mythical to everyday themes, from the landscape of North Dakota to scenes in a bar, at a marriage ceremony, before birth or before death, Poochigian's verse is enlightened by uncommonly fresh wisdom, and deployed in the delightfully masterful, elegant and naturally-flowing metrical forms his translations are known for.
"Aaron Poochigian is both a classicist and a neo-classical poet. By this I mean that he prefers as subjects the common occasions of our lives and articulates them uncommonly, in verse rich with the kind of detail that becomes a style passed on in an act of friendship between him and the poets of the past who have served as his mentors . . ."
– Charles Martin (from the Foreword). . . read more
The new issue of Able Muse, print edition (#12, winter 2011) -- over 230 pages, which is about a double issue of poetry & fiction including those from Sphereans that won or made the finals of the last year's Write Prize, plus the essays, reviews and art & photography.


Order the new, winter 2011 issue, and/or subscribe at www.ablemusepress.com .
About Alex
Alexander Pepple is an electrical engineer who has worked and consulted with several heavyweight high-tech companies . . . and a few lightweights. His poems have appeared or will appear in La Petite Zine, Eclectica, Snakeskin, Octavo, The Melic Review, Light...